Connect the Dots: AT&T Petition and ALEC State Model Legislation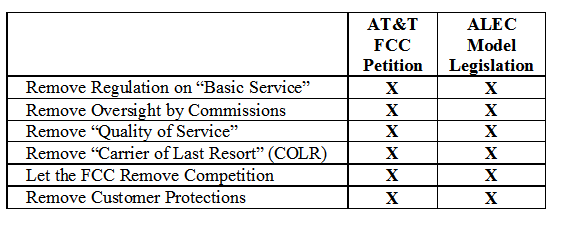 In the
previous post
we examined the state-based ALEC model legislation that was created by AT&T et al and how it was used in some states, including Florida.
However, the ALEC model legislation was created by AT&T; the fact that AT&T filed a petition with the FCC to finish the ALEC state-based campaign at the federal level should come as no surprise.
Brief History
In December 2009, AT&T filed comments with the FCC as part of National Broadband Plan titled "The Transition from the Legacy Circuit-Switched Network to Broadband" which laid out, in detail, the AT&T-ALEC model of the future — remove as much regulations and obligations as possible.
In 2009, AT&T et al got the FCC to create a group within the FCC's Technological Advisory Council (TAC) to start the process of "sunsetting" — i.e., closing down America's utility networks — the Public Switched Telephone Networks (PSTN). As we discussed, TAC is as model of regulatory capture. AT&T and Verizon, (two of the largest incumbent phone companies who control the PSTN in their states) are not only on the committee but the majority of the TAC members have direct financial ties to either AT&T or Verizon or both.
Moreover, the TAC has been headed by Tom Wheeler, who is the Obama nominee for the new chairman of the FCC, replacing Julius Genachowski — and was former head of the cable association, the NCTA, and the wireless association, CTIA.
In August 2012, AT&T set the stage with a letter to FCC Commissioner Ajit Pai, outlining the ALEC principles.