Part 1: AT&T et al and ALEC created state-based model communications legislation which was used in many states to remove regulation and oversight.
Part 2: ALEC state-based laws end up as principles in AT&T's petition to the FCC to close down America's utility networks.
NRRI Report, May 2013
"Twenty-five states had passed legislation eliminating or reducing state commission authority over telecommunications by the end of the 2012 legislative sessions. By the end of 2013, this number could increase significantly, given the legislation pending in states across the country. Legislation reducing regulatory oversight (or clarifying the deregulation initiatives passed earlier) was proposed in 20 states during the 2013 legislative session… Should the majority of the legislation pending in the 2013 sessions be enacted, nearly 70% of the states will have significantly reduced or eliminated commission jurisdiction over retail telecommunications services."
Let's connect the dots.
Starting in 2007, AT&T, Verizon, Centurylink and the cable companies, working with a group called the American Legislative Exchange Council (ALEC), created state-based model legislation and principles designed by the companies to accomplish one thing — the removal of all regulations, obligations and oversight on the companies' businesses. As the NRRI report outlines, 25 states have removed some, if not all regulations and oversight, and there are more to come in 2013.
ALEC Communications & Information Technology Members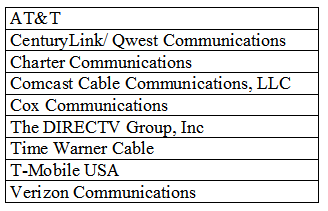 The ALEC corporate communications cabal includes the three largest incumbent wireline phone companies, AT&T, Verizon, Centurylink, as well as three of the largest wireless companies, AT&T, Verizon and T-Mobile, and three of the largest cable companies, Time Warner, Comcast and COX.
We note that Sprint/Nextel left ALEC in 2012.